Follow these simple steps to making a beautiful and unique gown:
Agree on a design
Choose a design (you can choose from our set of designs, or the gown can be a replica of another gown), how many gross of crystals should be used, what fabrics, and which colour. If in doubt, please ask me. Also let us know when you will need the gown and we will give you a quote for the price.
Measurements
Take measurements of yourself using the example drawing and photos as a guide, and send them to us. This is an important step, so please try to be accurate when taking them! If you don't understand something, ask. (We will do our best to check measurements before starting to work on a gown, by comparing to the measurements of someone of similar size and height.)
Payment
Full payment must be made in advance, in order to order your fabrics and crystals. For further details please read the Terms of Sale / Designer Dresses section.
Delivery
The gown will be sent to you by Federal Express.
Delivery by FedEx takes:
1-2 business days to the European Union
1-2 business days to the US
3-5 business days to the rest of the world
If everything is ok, then everyone is happy. If there are minor modifications needed which you can solve locally and the fee of which is not significant, I appreciate it if you are having it done locally. If severe modifications are needed, e.g. the built-in bodice has to be changed or the skirt is too short and therefore has to be replaced etc. I undertake to take back the gown for adjustment. In this case I undertake to pay an additional one way shipment, i.e. from Hungary to your country, or you can choose to receive a reduction of the price and have the gown repaired locally. Usually this kind of alteration is not needed any more, I am having the torso length, total length and skirt length of each dress checked twice before the dressmaker starts to make the dress. (It is recommended to take these measurements very carefully!)
I have ballgowns as well as latin outfits made for abroad. I work with three excellent dressmakers with several years of experience in dressmaking, whose prices are very reasonable. The countries I have sold new gowns to include the Netherlands, the United Kingdom, Germany, France, the United States, Canada, Hong Kong, Singapore, Taiwan, and Japan.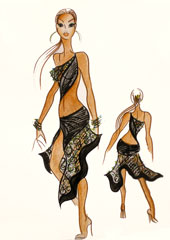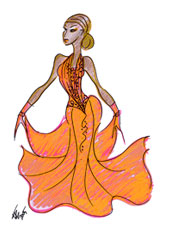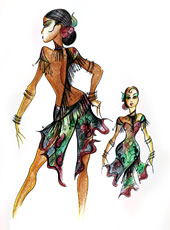 It possible to have a replika of a dress (please check Peter Suba's and Monica Csepelyi's photos (Mooonaphoto) on Dancesportinfo, or you can choose from the excellent designs of Ms Erika Kiss (you can find them under Latin Designs and Standard Designs.
Prices differ with the gross of crystals mainly. You may choose decoration with Swarovski, Preciosa or Chinese crystals. Swarovski stones are 14-cut, whereas Preciosa's crystals are 12-cut. We use Swarovski Xilion Rose and Swarovski Xilion Rose Enhanced rhinestones. Chinese stones are also made of glass, but they are less sparkly than the Austrian and Czech stones. However, they are also a lot cheaper.
10 gross of Swarovski crystals = 1440 pieces. We usually use the sizes SS20 and SS16. (It is agreed priorly, how many gross of which size will the dress be decorated with.)
You can check prices by clicking on each designer model. These prices are given as guidelines only, they are calculated with the minimum gross needed for each gown, i.e. they will be more, of course, if you would like to put more gross on the gown.
Sizes
Everything which says 'size' is to be measured in a circle. Across, or 'size' not mentioned means length.
A –
Breast size
B –
Waist size
C –
Midhip size (at the hipbone)
D –
Hip size (largest size of your bottom)
E –
Above breast size
F –
Under breast size (midriff)
G –
Across front (I don't need this)
H –
Neck size
I –
Bra cup's size (with push up, without push up)
J –
From shoulder point to above breast line
K –
From shoulder point to breast middle line
L –
From shoulder point to under breast line
M –
From shoulder point to waist line
N –
From shoulder point to hipbone
O –
From shoulder point to hip line
P –
From shoulder pointm through one breast, to bottom middle of the panty (torso size)
Q –
From shoulder point to the end of skirt (Dress total length)
R –
From waist line to knee
S –
From waist line to end of skirt (Skirt length)
T –
Crotch (I don't need this)
U –
Distance between waist and hip line (I don't need this)
V –
Length of the arm, outside
(from shoulder point until wrist, with a bent arm!)
W –
Length of the arm, inside
(from the armpit until wrist, with a bent arm, although the picture shows a straight arm)
X –
Arm size
Y –
Elbow size
Z –
Wrist size
1 –
Length of the back in the breast line
2 –
Length of the cut on the back, from the base of the neck down
3 –
Across back (Length of the back in the same line as G in the front)
4 –
Your height without shoes